Company profile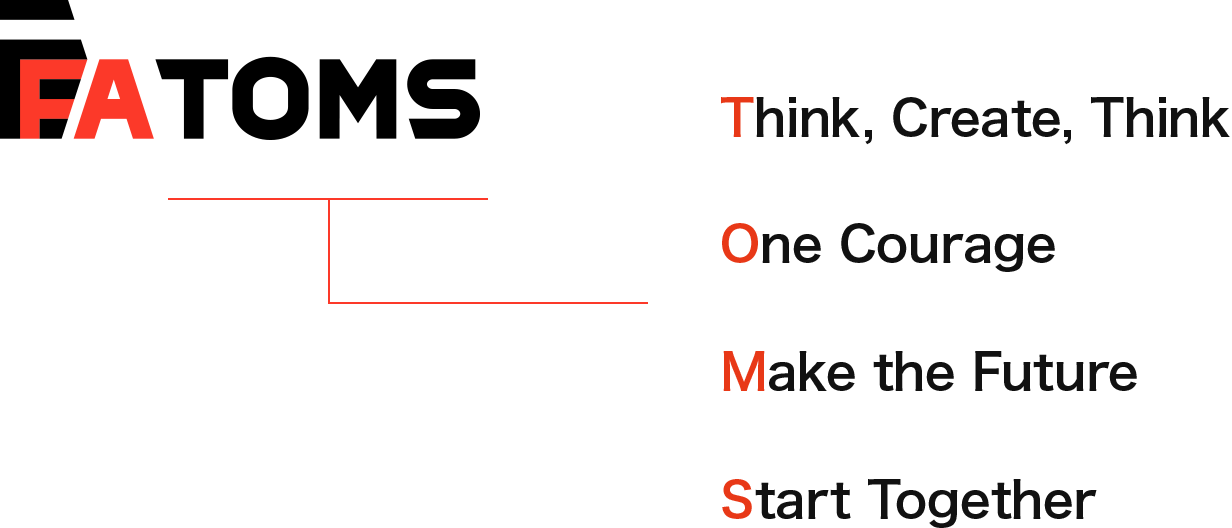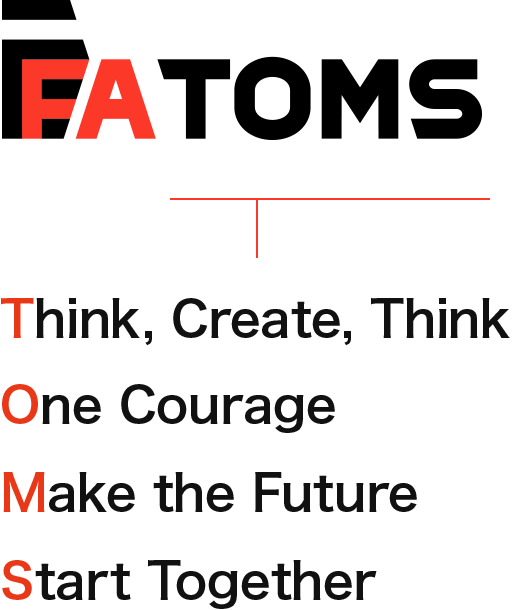 VISION
We are aware of our social responsibility.

All our activities are based on observing international law and morality. We pursue social and moral rightness.

Our mission is to satisfy our customers.

Providing high-quality and safe products that please our customers is our challenge.

We pursue creating a comfortable and safe workplace contributing to society.

We also value mutual trust with people.
MESSAGE
Since our founding in 1999, we have devoted ourselves entirely to the design and development of FA equipment, and we have refined our technical capabilities and responsiveness. Based on the belief that we will deliver FA equipment that combines "cost," "delivery," and "performance," we will make further efforts as a company that supports manufacturing in Japan and around the world. We look forward to your continued support of FA Toms.

PresidentHitoshi Oki

The evolution of technology in recent years is rapid, and new technology and knowledge are constantly required, especially at manufacturing sites. We have been aiming to be a company that continues to be selected by meeting the needs of diverse customers. We will contribute to the future manufacturing industry by preparing the development environment and providing FA equipment that exceeds customer expectations.

Executive directorTadayuki Tsubouchi

We, FA TOMS, have been refining our organizational capabilities to become an indispensable partner for manufacturing sites. Mechanical design, electrical control, parts processing and assembly. Thanks to the integration of these functions our development system enables us to respond more quickly and flexibly to the variety of requests from our customers. Our ambition is that our technology will be of help to your company's further development.

DirectorYoshiyuki Suzuki
OUTLINE
Name

FATOMS INC.
Head office

74-1 Maeda, Fuji City, Shizuoka Prefecture 416-0937
TEL 0545-32-7123
FAX. 0545-32-7124 (Office)
FAX. 0545-32-7727 (Design Room)

Second factory

1-46-2 Shimada-cho, Fuji City, Shizuoka Prefecture 417-0033

Established
January 2001
Capital
10,000,000 yen
Directors
President: Oki Hitoshi
Executive director: Tsubouchi Tadayuki
Director: Suzuki Yoshiyuki
Number of employees
34 as for April 2021
Line of business
Automation equipment / Labor saving equipment
Design / manufacturing / Modification
Bank
Shizuoka Bank Fuji Ekinan Branch
HISTORY
| | |
| --- | --- |
| April 1999 | Establishment of FA.TOMS at Gokanjima in Fuji city. |
| January 2001 | Establishment of FA.TOMS Co. Ltd. |
| January 2004 | Moved to Shimada-cho, Fuji City |
| November 2005 | Started operation of parts processing factory in Samejima, Fuji City |
| April 2011 | New design room built on the premises of the head office factory in Shimada-cho, Fuji City |
| April 2013 | Changed trade name to FA Toms Inc. |
| December 2014 | Introduced MAZAK Vertical Machining Center VERTICAL CENTER SMART 530C |
| December 2016 | Introduced DMG MORI CNC lathe ECOTURN450 V3 |
| October 2017 | Construction site for the new head office factory in Maeda, Fuji City has been purchased. |
| December 2017 | Introduced FANUC ROBODRILL α-D21MIB |
| October 2018 | Mitsubishi Electric Co., Ltd. Wire processing machine MV1200S was introduced. |
| December 2018 | Introduced Iwashita Gate Machining Center IMT1425 |
| September 2020 | Newly built head office factory in Maeda, Fuji City, integrated functions of parts processing factory opened. |